Indija, u klilje posmatranja, nije samo zemlja, ali kontinenta. Njegova stanovništva, što je više od jedne milijarde i uskoro može biti veći od Kine, predstavlja najneobičnije kontrasta. Ljudi ove ogromne zemlje govore skoro hiljadu jezika, pratite nekoliko različitih vjera – uključujući hinduizam, kršćanstvo, islam, budizam, Đainizam, Zoroastrizam, i Sikhism – i su se okupili u stotinama različitih etničkih i kasta zajednica. Ali, to su samo konvencionalni način opisuje bezbroj oblika društvene organizacije naći u Indiji, u zemlji ima i različitih socijalnih i ekoloških pokreta, ženske organizacije, radikalnih političkih stranaka i raznih interesnih grupa. Indija je, kao što se često priznat, najveće izborne demokratije u svijetu, i njene izbore, razbacani više od mjesec dana, predstavljaju trijumf organizacijskih vještina i volje; u isto vrijeme, zemlja ima nekoliko desetina komunističkih partija, od kojih su neki rade izvan formalne politike i oslanjaju se na oružanu borbu, dok su drugi veoma dio tradicije indijske parlamentarne demokracije. Politika je nešto strast, a možda i nigdje u svijetu je demokratija tako u osnovi života i sporne stvari kao u Indiji. Za razliku od SAD-a, gdje politički osporavanje je uglavnom svedena na izbor između razlikovati kandidata, au fetišizacije apsurdan pojam 'izbor', u Indiji političkim strankama i formacije pokazuju mnogo više varijacija, a tu je i mnogo više od ulice politici. Čak je i Vrhovni sud Indijski je prikazan divljenje sudski aktivizam ponekad.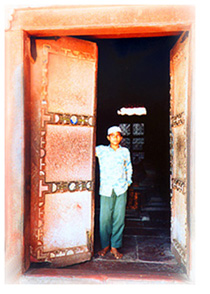 Indijski pejzaže su isto tako raznoliki, od ogromnih himalajske vrhove na sjeveru do ogromne Gangetic ravnice na sjeveru-središnjoj Indiji u obalnim područjima južnije. Krave i proizvođači na ulici, na brzinu nažvrljanom političke parole i oznake, na cesti Pan trgovina i mandirs, male djece nagurali u ciklus rikše, i ogroman račun ploče reklamira najnovije dozu nasilja i seksa doled od strane masivnim filmske industrije su isto toliko deo indijskog pejzaža. Arhitektonskih spomenika, kulturnih tradicija, i svakodnevne prakse, ni manje ni više nego hronike kraljeva i podvige brojnih osvajača, svjedoče o kompleksnosti indijske povijesti. Govoriti o indijske kulture je da se govori o dugo (iako ne nužno neprekinutog) tradicije glazbe, umjetnosti, arhitekture, plesa, skulptura, kao i tradicije filma odluka; to je da se pozove u Indiji mnogo kuhinje, sve smanjena na Zapadu "tandoori piletina", i naravno, sve te znakove, geste i simbole pomoću kojih ljudi stvaraju značenja i komunikacije. Iako Indija se obično povezuje s religijom, jer je kolijevka velikih polovine svjetskih vjera, sekularne i materijalističke tradicije imaju najmanje onoliko dugo i komplikovano istorije kao indijski religije.
Društvena stvarnost Indije, bez obzira na napredak u posljednjih nekoliko godina, a pokušaj da se Indija projekta kao usponu globalne sile, ukazuju na prilično sumorna slika: uslovi za veće većina ljudi koji rade i dalje izuzetno loše, nivo siromaštva i dalje vrlo visoka , i ugnjetavanje žene, siromašne, i drugih marginalizovanih grupa predstavlja najviše impresivan prepreka egalitarne aspiracije. To nije Indija Indijanaca u dijaspori Severa, čija je ideja domovine često počiva na okoštale koncepcije indijske religije, tradicije i kulturne prakse. Ipak, to je također u dijaspori da novi umjetnosti i kulturne forme se pojavljuju, a odnos između Indije i njene dijaspore potomke još može promijeniti naše razumijevanje indijske civilizacije.
Ovaj site ima za cilj da nudi još naučni čitljiv narativni nekih aspekata indijske istorije, politike, kulture, i religije. To ni najmanje teže biti sveobuhvatan, cilj koji u svakom slučaju ne može postići, i subjekti, ličnosti, a teme su izabrani za istraživanje i tumačenje jer su kategorije tvorac sajta, iako često su od suštinske važnost u razumijevanju povijesti i evolucije indijske civilizacije.
Source: http://the-sciences.com/2017/01/04/indija-i-njeni-susjedi/