("Two Acres of Land", Hindi, b & w, 142 mins., 1953)
Director: Bimal Roy
Screenplay: Hrishikesh Mukherji
Photography: Kamal Bose
Story and Music: Salil Chaudhary
Lyrics: Shailendra
Cast: Balraj Sahni (Shambu), Nirupa Roy (Parvati), Rattan Kumar (Kanhaiya)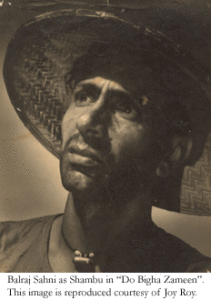 Do Bigha Zameen marks Bimal Roy's signal entry into the annals of Indian cinema history. Bimal Roy had been working in the film world for nearly two decades and had directed his first film in Bengali in 1944, but with Do Bigha Zameen Roy was to seal his place as one of the directors who has shaped Indian film history. Roy cast Balraj Sahni, rather adventurously [see note 1], as the peasant Shambu Mahato who struggles to save his two acres (do bigha) of land from falling into the hands of the local landlord or village zamindar. The zamindar is keen on selling his lands to a developer from the city who is intent on building a mill, but Sambhu's two acres are preventing the zamindar and his urban collaborators from bringing their plan to fruition. Summoned by the zamindar, Sambhu says that he is unable to part with his land: its sale, as he remarks, would be tantamount to selling his mother? And does anyone sell his mother? But this sensibility is alien to the avaricious zamindar: 'By selling the land', he replies with a sneering laugh, 'the mother will become the father.'
Given 24 hours to return the loan or face appropriation of his land, Sambhu somehow pieces together the money only to find that the zamindar, ably assisted by his accountant, has manipulated the books to show Sambhu in much larger debt than he had envisioned. Here, and elsewhere, the scene takes one back to Mother India – though, as shall soon be clear, the two films are also quite unlike each other. The case goes to the court – and Bimal Roy makes good use of the soundtrack to represent the courtroom as an intimidating space where Sambhu is clearly out of his element. The protocols of evidence, proof, and testimony operate in a world remote to Sambhu: when he describes God as his witness, he is jeeringly asked if can bring him as a witness to the stand. Sambhu is overwhelmed: the raucous laughter of the educated, the sharp questioning by the attorney, the relentless pace of the proceedings, and the court's obliviousness to questions of equity all conspire to render the judicial judgment into a piece of poison. Sambhu is ordered to pay the landlord a sum of Rs. 235 within a period of three months or else have his land confiscated as payment. The colonial state and its functionaries may have thought of the courtroom as the preeminent space from where justice is delivered, but for Sambhu injustice itself comes marked by the imprimatur of the court.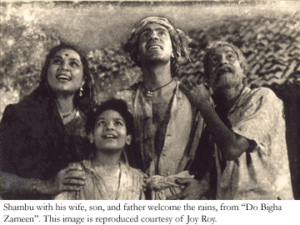 The land must be saved: that is the one refrain in Sambhu's life. But how is a huge sum of money to be earned by a mere peasant? A chance conversation in the village implants in Sambhu's mind the idea, and the hope, that the city can be a site of salvation. He takes leave of his wife Parvati (Nirupa Roy) and father, though Parvati has many misgivings about his departure for the city. Calcutta is not the preeminent city of the Hindi film, but Do Bigha Zameen is as much a city film as anything else, indeed one of the most significant films to have explored critical phenomena in independent India, namely the migrations from rural areas to urban centers. The city is imposing, and intimidating, at first glance: Sambhu and his son Kanhaiya, who defies his father's order to stay behind and hitches a ride on the train, come into Calcutta and the camera cuts to shots of the immense Howrah Bridge. Then there is a montage of shots – trams, crowds, the honking of cars — where the speed and fluidity of city life are implicitly contrasted with the leisurely and rather predictable pace of village life. A double-decker bus appears to them to be a double-storied house on the move. Before the night is over, Sambhu and Kanhaiya, taking refuge at the base of a large statue, have been stripped of all their possessions and money by a common thief. Even the option to return to the village can no longer be exercised.
Sambhu and Kanhaiya may be rendered homeless, but villagers such as themselves have created (in Jai Sen's phrase) the unintended city, bringing their sensibility to urban landscapes. They make their way to a city slum (bustee) where the reigning matriarch, an old woman referred to as Chachiji (aunt), takes them under her wing. They may pine for their village home, but nevertheless Sambhu and his likes are not part of the industrial homeless; they integrate into another community whose members can share their pain and joy. This is what E. P. Thompson, writing about those living in the English countryside, referred to as the 'moral economy' of the peasant. Sambhu, whose efforts to find employment have repeatedly been mocked, learns the trade of pulling a rickshaw from an older man in the bustee. But the earnings do not suffice, and Kanhaiya himself takes up shoe shining. However, if nothing succeeds like success, it appears to be equally true that misfortunes rain down upon those who are already deadened by the oppressions of life. Sambhu is critically wounded and confined to the bed; and Kanhaiya, whose shoebox breaks into pieces as he runs to avoid a police raid, has a moral lapse and is tempted into pickpocketing. Meanwhile, alarmed at the fact that she is no longer receiving any money or even letters from Sambhu, the pregnant Parvati takes up construction work – and eventually leaves to look for Sambhu in the city. A village woman, partly in purdah and newly arrived in a large metropolis, is like a sitting duck to a hunter: led astray by a man who claims that he can take her to Sambhu, Parvati struggles desperately to flee his clutches and is run over by a car. She survives, the family is reunited; but the land is no longer his to claim. Sambhu had shed his blood to put together the money that would have saved his land; in an ironic twist of fate, as Sambhu himself observes, that money has to be spent on buying blood to save Parvati. In the last touching scene, the three of them stand by a fence beyond which a factory is now coming up on what was once their land. Once Sambhu, whose immense dignity and honesty of purpose define him as much as his poverty, had even been prepared to disown his son when he discovered that Kanhaiya had taken resort to theft; and now, as he gazes wistfully upon the land, picking up a mere clod of earth, Sambhu himself stands accused of 'theft' by the watchman. Into the evening sun walk away the trio.
The contrast of the village and the city is as old as literature itself, and it would not be too much to say that each has had its advocates. The village furnishes a 'moral economy' which anchors lives and customs; but the village is also incapable of providing sustenance in conditions of modernity, and its inhabitants are bred in an atmosphere of ignorance, open to exploitation and oppression. Yet Bimal Roy is equally candid in his representation of the brutality of city life, of the callousness, anonymity, and instrumentality that appear to mark most human relationships in the urban setting. Not all that strangely, almost the only occupants of the city who display any humanity are recent migrants from the village. If Bimal Roy displays some ambivalence about how he might position himself between the village and the city, he is unequivocally clear that the morality of the oppressed is superior to the morality of the oppressor. In one touching scene, having lost the patronage of a family whose two children he ferried to school on his hand rickshaw, Sambhu forgoes another customer so that he can take the two little girls to school even though he is not to be paid for his labor. One cannot put a price on every human endeavor, nor ought human relationships be subjected to the laws of commodities.
In a film where one searing scene follows another, the chase in Do Bigha Zameen stands forth as Bimal Roy's ultimate protest at injustice and dehumanization. A young woman hops upon a rickshaw; her lover comes running by, seats himself in Sambhu's rickshaw, and urges him to follow the previous rickshaw. Faster, faster, there is much money in it; perhaps Sambhu too is enticed by his client's offer of a grand sum of Rs. 6 if he can catch up with the other rickshaw. One after another the two rickshaws hurl down the wide boulevard. They pass by a horse carriage – the whip cracks down the horse's back. And, instinctively, the young man in Sambhu's rickshaw moves his hand as if he were wielding a whip, urging Sambhu on. For that is what Sambhu is, a beast of burden; but if for Sambhu the oppressor is always, but always, fully human, the ontology of the oppressor is such that the oppressed ceases to be fully human, and is sometimes not human at all. Here is not a narrative of man versus animal; here is not a tale of man versus the machine, as in Naya Daur. Here, etched boldly, is the story of man versus man. [See note 2] And such a world must eventually come tumbling down: the wheel spins faster and faster, the rickshaw collapses, and Sambhu's world becomes topsy-turvy.
Do Bigha Zameen would earn Bimal Roy the first of many important accolades that he would receive the rest of his life. Roy got awards for Best Picture and Best Director in India. It was not an immensely successful film at the box-office, but it was very well received at international film festivals such as Cannes and Karlovy Vary. Film critics compared it with the master works of Italian neo-realism, such as Bicycle Thief and Umberto D, and many thought that it spoke on behalf of the exploited around the world. Balraj Sahni was already a known entity in the film world; but Do Bigha Zameen would catapult him into the first rank of actors. "When, one day, I die," he has written, "I shall have the satisfaction that I acted in 'Do Bigha Zameen.'"
Note 1: There is an interesting account in Bhisham Sahni, Balraj: My Brother (New Delhi: National Book Trust, 1991[1981]) of how Balraj Sahni trained for this role. He went to the Calcutta rickshaw-pullers' union and took lessons. Among those he encountered on the roads was a rickshaw puller who, it transpired, was living the very story that was being shot – except that, unlike Shambu who spent three months in Calcutta, this rickshaw puller had been in Calcutta for over 15 years in an attempt to save his two bighas of land. Here is how Balraj described the moment of epiphany: "Then I, as it were, imbibed the soul of this middle-aged rickshaw-puller within me, and stopped thinking about the art of acting. I think the real secret of the unexpected success of my role lay in this. A basic rule of acting had come my way suddenly, not from any book but from life itself" (p. 102).
Note 2: Many years later, around the early 1980s, Shashi Anand made a much-acclaimed documentary on the hand rickshaw pullers in Calcutta called Man versus Man. Anand explored with great sensitivity the political economy of this trade.
Copyright: Vinay Lal, 2008
[See also on MANAS: Bandini, Bimal Roy, Sujata, Remembering Bimal Roy]