by Vinay Lal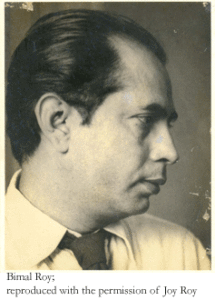 Few directors have left such a mark on Indian cinema as Bimal Roy. His contemporary, Ritwik Ghatak, himself celebrated as one of the supreme masters of cinema, has written that he worshipped Bimalda (as he was popularly known), and recent works of Hindi cinema, such as the remade version of Devdas (with Shah Rukh Khan) and Lagaan (with Amir Khan) bear testimony to the enduring influence of Bimal Roy's work. His name is indelibly linked to some of the masterpieces of Indian cinema, including Do Bigha Zameen (1953), Parineeta (1953), Madhumati (1958), Sujata (1959), and Bandini (1963).
Bimal Roy was born into a landholding family in Dacca in then East Bengal. The estate manager is said to have thrown him and his family out of the estate upon the death of Bimal Roy's father. They made their way to Calcutta, among the many migrants who, in twentieth-century India, have enacted a similar journey. Bimal Roy started working as an assistant cameraman and cameraman on documentaries in 1932-33, but his foray into cinema effectively commenced when he was hired as a publicity photographer by Promothesh Barua, whose Devdas (1935) would become a landmark film. At Calcutta's famous New Theatres, which helped to define cinema for a bhadralok audience, Roy was engaged as an assistant to cameraman Nitin Bose where he soon won a reputation for his command over lighting and composition. He worked on close to ten films as a cameraman before venturing forth as a director with his film, Udayer Pathey (1944, Bengali; remade in Hindi as Humrahi, 1945), which in many ways echoes the aesthetic, moral, and political sensibility so strongly on display in his films of the 1950s.
The collapse of New Theatres, the pressures of World War II upon Calcutta, and the advent of Bombay cinema all heralded a new phase in the life of Bimal Roy. His own migration to Bombay, one might say with a touch of exaggeration, precipitated his understanding of the migration from rural areas to urban centers as one of the great social phenomena of independent India. Roy directed Maa (Hindi, 1952) for Bombay Talkies, but one can view this as a prelude to his efforts, soon to bear fruit, to leave an ineradicable mark on Indian cinema. Do Bigha Zameen ("Two Acres of Land", Hindi, 1953) was the inaugural film of Bimal Roy Productions – and if Bimal Roy intended to make a statement upon his arrival in Bombay, he surely did so with this extraordinary film. He elicited a stellar performance from Balraj Sahni, who plays a peasant (Shambu) caught up in a cycle of debt to the local landlord. Desperate to save his land from being auctioned off, Shambu departs for the city and accidentally takes up the work of a cycle rickshawallah. Bimal Roy's social sensibility and humanity are palpably on display in this superb film, which won him many international accolades.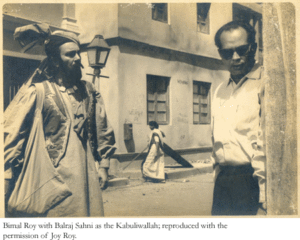 Like many other directors, working in Bengali and Hindi cinema, Bimal Roy drew upon the work of eminent writers such as Sarat Chandra. Parineeta was released the same year as Do Bigha Zameen, and it was followed by Biraj Bahu (1954) and Roy's remake of Devdas (1955). He had served as the cameraman for Barua's Devdas (1935), with the title role played by K. L. Saigal, and the differences between the two versions are instructive. Roy chose to set his actors largely in natural settings, where Barua (and, more recently, Sanjay Leela Bhansali in his 2002 remake) have deployed largely studio shots. Roy cast Dilip Kumar as Devdas, and this remains one of Dilip Kumar's signature roles.
Though Bimal Roy was already something of a legend in the film world by this time, his films had not been commercially altogether successful. The recent documentary film (2007) by his son Joy Roy, Remembering Bimal Roy, suggests that he was indifferent to considerations of money and profit. Nevertheless, Madhumati (1958), a much lighter film scripted by Ritwik Ghatak that paired Dilip Kumar with Vyjayantimala, did extraordinarily well at the box office, helped no doubt as well by the memorable lyrics of Salil Chaudhary and Lata Mangeshkar's beautiful rendering of its songs. Yahudi, also made in 1958, was nearly as successful.
Bimal Roy returned in 1959 to what is often described as the realist strand of his cinema. If Do Bigha Zameen dealt with class and economic oppression, and Bandini (1963) would take as its subject caste oppression, Sujata (1959) can with some simplification be viewed as concerned with women's oppression. The film revolves around Sujata, an untouchable girl adopted into an upper-caste family and viewed almost like their daughter (not as their beti, but beti jaisi). Bimal Roy cast Nutan in the title role and she delivered with a performance of immense dignity and control. As the actors who worked with Roy have themselves stated, he exercised directorial authority and yet simultaneously allowed them to discover their own potential.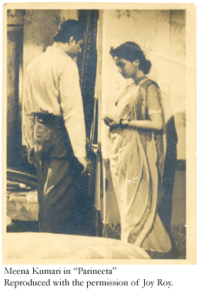 Following Sujata, Bimal Roy worked with the actress Sadhana in Parakh (1960) and Prem Patra (1962). In Parakh, rather unjustly forgotten, Bimal Roy turned his attention to the question of acquisitive greed. The last film that Roy directed, Bandini (1963), is sometimes seen as the culmination of his artistic mastery. Adapted from a popular Bengali novel by Jarasandha, the story is set around a young woman, Kalyani (Nutan), who is the daughter of a postmaster and is drawn into the life of a anti-colonial revolutionary played by Ashok Kumar. Feeling betrayed by him, Kalyani murders the woman who he subsequently marries and is sentenced to a term in jail. There she encounters a doctor (Dilip Kumar) who, so to speak, sees the inner beauty in her. Though she is attracted to him, she recognizes the social distance between the two and spurns his love before apparently capitulating to his offer of marriage upon her release. But, as chance would it, as she is on her way to meet him, the revolutionary comes back into her life and she remains faithful to him. The film might be seen as enforcing moralistic codes about women's loyalty and fidelity, and the patriarchal order is doubtless rendered visible by a whole array of signs, but such interpretations belie the complexity of the characters or Roy's understanding of the social and political milieu.
Though Bimal Roy earned more than his share of the greatest accolades conferred by the industry in India – for example, Filmfare Award for Best Director three years in succession, for Madhumati, Sujata, and Parakh – and ample international recognition, such awards cannot convey his obvious love of the cinema, the very high standards he set for himself, or the magnitude of his accomplishments. He is one of the few people to have understood that the ontology of the oppressed is superior to the ontology of the oppressor. Or, to put it in plain language, Do Bigha Zameen, Sujata, and Bandini all make it amply clear that the victims of oppression embody a superior morality. Unlike the oppressor, who is often inclined to view the oppressed as not fully human, or even human at all, the oppressed victim always treats the oppressor as fully human. The women in Bimal Roy's films, perhaps not accidentally, are generally stronger characters than men. At the aesthetic plane, as well, Roy displayed a superb mastery of his craft. One could point, for example, to the manner in which shadows appear in his films, or how the films echo each other in interesting ways.
Bimal Roy died in 1966, leaving behind several incomplete projects, among them on the Kumbh Mela and the Mahabharata. Sadly, he has not received an iota of the critical attention that he deserves, though there are some signs of a revival of interest in his cinema which may, in time, yield scholarly and intellectual dividends.
FILMOGRAPHY
(all in Hindi unless otherwise stated; films he produced but did not direct, or in which he worked only as a cameraman, are not included)
Udayer Pathey (1944, Bengali)
Hamrahi (1945)
Anjangarh (1948, Bengali; also in Hindi)
Mantramugdha (1949, Bengali)
Pahela Admi (1950)
Maa (1952)
Do Bigha Zameen (1953)
Parineeta (1953)
Naukari (1954)
Biraj Bahu (1954)
Baap Beti (1954)
Devdas (1955)
Madhumati (1958)
Yahudi (1958)
Sujata (1959)
Parakh (1960)
Kabuliwallah (1961)
Prempatra (1962)
Bandini (1963)
Copyright: Vinay Lal, 2008
[See also on MANAS: Bandini, Do Bigha Zameen, Sujata, Remembering Bimal Roy]