The royal city at Fatehpur Sikri, situated 26 miles west of Agra, was built at the orders of the Mughal Emperor Akbar. While Akbar himself was illiterate, he took a keen interest in literature, architecture, and the arts. He is also reputed to be a very tolerant ruler, and the buildings at Fatehpur Sikri blended both Islamic and Hindu elements in their architectural style. One of the buildings even reflects the new sycretistic faith founded by Akbar, Din-e-ilahi, which though very short-lived remains a matter of controversy.
Popular legend has it that since Akbar was without an heir for a long time, he made a pilgrimage to the renowned Sufi saint, Sheik Salim Chisti, to seek his blessings. When a son — later to be known as Jahangir — was born to him, Akbar named him after the saint as a mark of his gratitude and built the new capital to mark his birth. Construction of the new ceremonial capital, with its elaborate palaces, formal courtyards, reflecting pools, harems, tombs and a great mosque, commenced in 1571. A large number of masons and stone carvers worked hard on an area that was over two miles long and a mile wide; they used a brilliant red sandstone available locally, which provides the buildings with much of their lustre. Shortly after the work was completed fifteen years later, it was realized that there was a lack of an adequate water supply and the pristine complex was abandoned.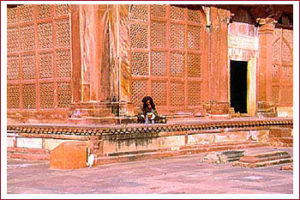 Fatehpur Sikri is now a World Heritage site. The Panch Mahal , or Palace of Five Storeys, and the Buland Darwaza, a massive gate which provides entrance to the complex, number among the finest specimens of Mughal architecture, and it is even arguable that Fatehpur Sikri is the greatest accomplishment of Mughal architecture, surpassed only in reputation but not in its beauty and the awe it inspires by the Taj Mahal. The cultural politics of the site remains to be written: perhaps the mammoth chess board, where human figures were used as chess pieces and moved at the emperor's will, provides a cue.
Sources
Brown, Percy. Indian Architecture. Bombay: Taraporevala and co., 1959.
Davies, Philip. The Penguin guide to the monuments of India, Vol II. London: Viking, 1989.
Further Reading
Hambly, G. The Cities of Mughal India. New York: Putnam, 1968.
Tadgell, Christopher. The History of Architecture in India. London: Phaidon Press, 1990.