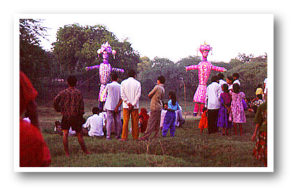 The effigies of Ravana and Meghnada in the community park at Sheikh Sarai, south Delhi. Ravana and his companions are proceeding in a float atop a truck, and he is shown taking a swig from a Pepsi bottle: evil finds evil! The truck winds its way through the streets of Sheikh Sarai, a community in south Delhi; when it arrives at the local park, Ravana will be engaged in battle with Rama and be defeated. The effigies are burnt at sunset.
Though kno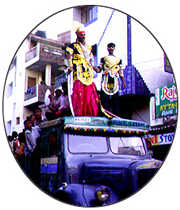 wn by different Rama over Ravana, or the orces "good" over the forces of "evil". Large effigies of the ten-headed Ravana, the king of Lanka who abducted Rama's wife, Sita, and was subsequently vanquished in battle, are burnt as the sun goes down; on either side of him are the slightly smaller effigies of Meghnada, the son of Ravana, and Kumbhakarna, the full brother of Ravana whose name has become a household word in India for lethargy and laziness. (It is said that Kumbhakarna slept for six months and would then stay awake for a full day, no doubt to replenish himself.)
The festival lasts ten days, and most communities celebrate it with great fanfare. During the festival, the Ramleela, or the story of Rama, is enacted by professional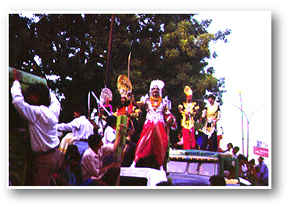 dance companies and amateur troupes. On the last day of the festival, young men and small boys, dressed as Rama, his brother Lakshman, Ravana, and other players in the drama, proceed through the streets of the community as part of a float that is sometimes quite elaborate. Rama and Ravana engage in battle; Ravana is defeated.
Then Rama fires an arrow into the huge effigies of Meghnada and Kumbhakarna, stuffed — as is the effigy of Ravana — with crackers and explosives; finally an arrow is shot into Ravana's effigy, to the encouraging shouts of "Ramchandra ki jai", "Victory to Rama", and a large explosion ripples through the sky. In Bengal, Dusshera is celebrated as Durga Puja. Idols of the goddess Durga are worshipped for nine days, and on the tenth day immersed in a body of water, such as a river or pond. In Mysore, caparisoned elephants lead a colorful procession through the streets of the city.