[See also:  The Chess Players; New Indian Cinema]
Satyajit Ray was India's first internationally recognized film-maker and, several years after his death, still remains the most well-known Indian director on the world stage. Ray has written that he became captivated by the cinema as a young college student, and he was self-taught, his film education consisting largely of repeated viewings of film classics by de Sica, Fellini, John Ford, Orson Welles, and other eminent directors. With the release in 1955 of his first film Pather Panchali ("Song of the Road"), whose financing presented Ray with immense monetary problems, compelling him even to pawn his wife's jewelry, he brought the neo-realist movement in film to India. Little could anyone have imagined that this first film would launch Ray on one of the most brilliant careers in the history of cinema, leading eventually not only to dozens of international awards, India's highest honor, and a lifetime achievement Oscar from Hollywood, but the unusual accolade of being voted by members of the British Film Institute as one of the three greatest directors in world cinema.
Satyajit Ray was born into an illustrious family in Calcutta in 1921. His grandfather, Upendra Kishore Ray-Chaudhary, was a publisher, musician and the creator of children's literature in Bengali. His father, Sukumar Ray, was a noted satirist and India's first writer of nonsense rhymes, akin to the nonsense verse of Edward Lear. Later in life, Satyajit Ray made a documentary of his father's life. His film, Goopy Gyne Bagha Byne, was based on a story published by his grandfather in 1914, but even other films, such as Hirok Rajah Deshe, "The Kingdom of Diamonds", clearly drew upon his interest in children's poetry and nonsense rhymes.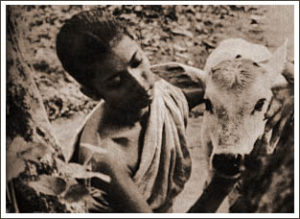 Pather Panchali, based on a novel by Bibhutibhusan Banerji [Bandopadhyay], documents a family's struggle for existence in the face of a famine and the growth of the boy Apu. Ray later wrote, "I chose Pather Panchali for the qualities that made it a great book; its humanism; its lyricism; and its ring of truth . . . . The script had to retain some of the rambling quality of the novel because that in itself contained a clue to the feel of authenticity; life in a poor Bengali village does ramble." Ray went on to make two more movies on Apu (Aparajito in 1957, followed by Apur Sansar in 1960) to complete his famous Apu trilogy, though he had no thoughts of a trilogy when he embarked on the first film. The latter two movies trace the life of a young man [Apu] in Calcutta, his early marriage to a village girl, his conflict with his father, and their final reconciliation. Contemporaneous with these films were two staggering films, Devi ("The Goddess") and Jalsaghar ("The Music Room"), on the ways of the landed aristocracy in Bengal and its decline. In Devi, an elderly man has a vision that his young daughter-in-law is a goddess, and she is compelled to bear the burden of divinity; when her husband returns home from a trip, he finds his wife installed as a deity. The zeal with which a zamindar pursued his passion for music, though his estate lay crumbling around him, was the subject of Jalsaghar.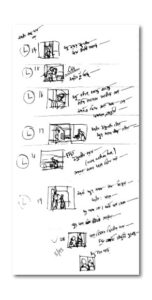 Ray's later films treated more contemporary themes like the new urban culture (Nayak in 1966, Pratidwandi in 1970, Seemabaddha in 1971, Jana Aranya in 1975). With his film Shatranj Ke Khiladi ("The Chess Players", 1977), based on a short story by the famous Hindi writer Premchand, Ray broke new ground. Here he ventured into the terrain of mid-nineteenth century India, the expansion of British rule, and what (to use a cliché) might be termed the 'clash of cultures'. This film made brilliant use of color, animation, and narration; it was also Ray's maiden attempt at making a non-Bengali feature film. (His only other film in Hindi was Sadgati, produced for Indian television.) To a small extent, Shatranj Ke Khiladi drew him to the attention of the mainstream Indian film-going audience. After Shatranj Ke Khiladi, he returned to themes set in his native state of Bengal, though in Ghare Bhaire ("The Home and the World"), inspired by Tagore's novel of the same name, Ray returned in part to the theme of British colonial rule. Ray's films were characterized by a low budget, outdoor or locating shooting, authentic settings, detailed historical research, and a superb cast of actors and actresses who rose to eminent distinction under Ray's direction. The greatest names in Bengali cinema worked for Ray, and Soumitra Chatterji, who appeared in half of Ray's films, has himself recently been the subject of a long documentary film. Few of his films were commercially successful, and the greater majority were never screened outside Bengal, except at international festivals, in film clubs, and in Bangladesh. The movie he created for children, Goopy Gyne Bagha Byne, was his first market success and soon gained a cult following in Bengal. Ray himself never showed much interest in the popular Hindi cinema
Satyajit Ray remained a strong presence on the Bengali cultural scene all throughout his life. In 1947 he had founded the Calcutta Film Society with Chidananda Das Gupta. Though in the West he is known only as a film-maker, his reputation in his native Bengal extends to a great many other spheres. Ray was a prolific short story writer, with over a dozen volumes to his credit; and he contributed regularly to the children's journal "Sandesh", which he also edited. The exploits of his fictional character Feluda, first introduced in a series of detective stories, were avidly followed by the public, and the much-beloved Feluda was later featured in a couple of his movies. Ray, who had first worked in the advertising industry, was a major graphic designer, and designed hundreds of book jackets; he also illustrated his own books, besides those of many others. He virtually pioneered, in the Indian context, the genre of science fiction stories, and it is alleged that the script for Steven Speilberg's immensely successful E.T. was based, though unacknowledged by Speilberg, on a script that Ray had sent to him many years ago. Ray wrote a number of essays on film, some of them collected in a volume entitled Our Films, Their Films, and his films were based on the most meticulous research. He can, not unreasonably, be considered as having chronicled phases of Bengal's history from the late nineteenth century onwards, the life of urban Calcutta, and the rural landscapes of Bengal. It is also remarkable that Ray did much of the work for his own films – the screenplays were almost invariably his own, and he personally supervised, though assisted by an extraordinary crew, virtually every detail of lighting, art direction, and so on. He scored the music for some of his films (though the music for the Apu Trilogy was composed by Ravi Shankar, and for Jalsaghar by the incomparable Vilayat Khan). Not surprisingly, then, his fellow Bengalis at least thought of him as a "Renaissance Man", and he was hailed as the successor of Rabindranath Tagore.
As Ray moved from one critical success to another, championed by film critics overseas, and showered with awards at Venice, Cannes, Locarno, and Berlin, it became habitual to look upon him as the great hope of Indian cinema. His films were closely studied in film schools, and watched repeatedly by hopeful film-makers. Prominent Indian directors such as Kumar Shahani, Mani Kaul, Adoor Gopalakrishnan, and Shyam Benegal clearly showed the influence of Ray in their work. Yet he was the subject of some intense criticism. In Bengal, particularly in Calcutta, where no respectable intellectual could be other than a Marxist, Ray was charged with being a supreme representative of bourgeois culture. He had himself likened his films to the symphonies of Mozart. It is not merely the case that he had, as some people thought, a disdain for popular culture, since the Marxist aficionados of cinema were themselves not particularly fond of commercial cinema. Their hero was, and remains, Ritwik Ghatak, who made a handful of films, and was the cinematic poet of the partition; and similarly in the work of Mrinal Sen they found a director who was thought to be politically more sensitive. The 1960s and 1970s were a period of great political turmoil, and Ray was accused, as his friend Chidananda Dasgupta has written, of not showing a greater concern for the "Calcutta of the burning trains, communal riots, refugees, unemployment, rising prices and food shortages". No one would have known from Ray's films that Bengal was the seat of an armed insurrectionary movement. On the other hand, films such as Jalsaghar, with its seemingly loving portrait of a zamindar who was the last specimen of a noble class of people who lived for music and displayed a refined aesthetic sensibility, seemed utterly reactionary.
Some of the earlier criticisms of Ray's films, however, now seem misplaced and premature. It is now easier to recognize his films as politically nuanced, and Ray never made the mistake of embracing unabashedly the nationalist interpretation of Indian history. Ray tackled the difficult subject of the Bengal famine of 1943, for instance, with great sensitivity, and no one who has viewed Mahanagar orPratidwandi can describe him as indifferent to the problems and even parodies of urban existence in modern India. But his films lend themselves to another sort of criticism. Ray's limitations were the limitations, so to speak, of the trajectory of Bengali modernity which he rather unreflectively accepted. He had a tendency, evident as much in an early film like Devi (1960) as in Ganashatru ("An Enemy of the People", after Ibsen's play of the same title), completed nearly thirty years later, to oppose modernity to tradition, rationality to superstition, and science to faith – and all this in an embarrassingly simplistic fashion, at least on occasion. Ray was unequivocally clear that he stood for science and modernity, and consequently he was incapable, as Ganashatru amply showed, of showing tradition as anything but superstition. Ray belongs to the great tradition of humanism, doubtless ennobling but, in some respects, acutely shortsighted.
Partial Filmography:
Pather Panchali ("Song of the Road", 1955)
Aparijito ("The Unvanquished", 1956)
Paras Pathar ("The Philosopher's Stone", 1957)
Jalsaghar ("The Music Room", 1958)
Apur Sansar ("The World of Apu", 1960)
Devi ("The Goddess", 1960)
Rabindranath Tagore (documentary, 1961)
Teen Kanya ("Three Daughters", 1961)
Kanchenjunga (1962)
Abhijan
Mahanagar ("The Big City", 1963)
Charulata (1964)
Kapurush-0-Mahapurush ("The Coward and the Holy Man", 1965)
Nayak ("The Hero", 1966)
Chiriakhana (1967)
Goopy Gyne Bagha Byne (1968)
Aranyer Din Ratri ("Days and Nights in the Forest", 1969)
Pratidwandi ("The Adversary", 1970)
Sonar Kela (1975)
Shatranj Ke Khiladi ("The Chess Players", 1977)
Shakha Proshakha (1990)
Agantuk ("The Stranger", 1991)
Further Reading:
Dasgupta, Chidananda. The Cinema of Satyajit Ray. New Delhi: Vikas, 1980.
Hannan, David. "Patriarchal Discourse in some early films of Satyajit Ray."Deep Focus 3, no. 1 (1990):30-57.
Lal, Vinay. "Masculinity and Femininity in The Chess Players: Sexual Moves, Colonial Manoeuvres, and an Indian Game", in Manushi: A Journal of Women and Society, nos. 92-93 (Jan.-April 1996):41-50.
Nandy, Ashis. "Satyajit Ray's Secret Guide to Exquisite Murders: Creativity, Social Criticism, and the Partitioning of the Self", in his The Savage Frued and Other Essays on Possible and Retrievable Selves (Delhi: Oxford University Press, 1995), pp. 237-266.
Ray, Satyajit. The Apu Trilogy: Pather Panchali, Aparajito, Apur Sansar. [Film scripts] Calcutta: Seagull Books, 1985.
Seton, Marie. Portrait of a Director: Satyajit Ray. Bloomington: Indiana University Press, 1971.
Wood, Robin. The Apu Trilogy. New York: Praeger, 1971.